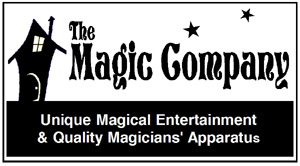 THE MAGIC COMPANY PRODUCTS
Fine Handcrafted Quality Magicians' Apparatus
Here we have displayed photos of many of the items we have built in the past. This is to give you an idea of the range of our manufacturing. Many of our items are produced in limited runs, or are unique, one-of-a-kind pieces. We always consider custom orders, and will gladly discuss this with you.
In stock items may be found on the MAIN CATALOG PAGE, although some past items become available again occasionally. New items are continuously added to our line, so please check back often to see "What's new!"
If you are interested in the availability of a particular item, and wish to reserve it, or if you wish to inquire about custom ordering, please contact us. We will do our best to answer your inquiry as soon as possible. For more information on ordering, please see our policies.
DICE TRIO

CARD BOX

CARD RISE HOULETTE

CARD STAR (tall)

CLATTER BOX

KANGAROO SILK GLASSES

SILK UTILITY PEDESTAL

CARD STAR (med.)

SILK UTILITY PEDESTAL

FEATURETTE TABLE

DEVIL MARIONETTE

LAMINATED RAVEN COMIC
(8.5" x 11")

CHERRY CARD BOX (Locking)

RICARDO RABBIT >

LAMINATED MICHAEL COMIC (8.5" x 11")

TIME & AGAIN...
---
---
---
---
Copyright © 2005-2012 Michael Baker / The Magic Company. All rights reserved.