Family Fun Shows
A Show For The Whole Family!
From the young'uns, all the way up to Grandma & Grandpa, here is a show that everyone will enjoy!
As one of, if not THE event organizer, you want to know you are relying on the professionalism of others to help you get your job done. This is why you can count on Michael Baker, and The Magic Company to give you just that... a clean, professional, entertaining show that will get you that well-deserved pat on the back for a job well done!
Big Stage, Little Stage, or No Stage...
Whatever you have... we have a show for you!
Company Picnics!

School Carnivals!

Church Events!

Family Reunions!

Fall Festivals!

Holiday Parties & Festivals!

Summer & Day Camps!

Malls & Shopping Centers!

Grand Openings!

Many Other Special Events!
Fun, Laughter & MAGIC
Here is a show that is perfectly layered to please everyone. Lot of action, super clean zany comedy, funny situations. audience interaction, eye-popping, intelligent, though-provoking magic, and totally affordable!
Show lengths from 30 minutes, up to one hour
---
Children's Events
Magic Is Perfect Entertainment For Schools, Libraries, & Other Children's Events!
Children love the excitement of a live magic show! The Magic Company can provide high-energy interactive comedy magic programs from 30 to 60 minutes, perfect for entertaining your group!
Here is a show that gets all the kids involved. You'll hear squeals of delight and tons of laughter as the children have their intellects challenged and their funny bones tickled. There is always something new to see... lots of color and movement, and of course, plenty of audience participation.
"Who wants to help with a trick?"
Every hand in the audience shoots skyward! The children want to be a part of the magic.
Age Appropriate
The Magic Company features the magic of Michael Baker, experienced in entertaining children of all ages... even the older kids. Special shows are designed to be age appropriate, and are generally divided into 3 groups:
Kindergarten through 2nd grade
Grades 3 through 5
The young adults, ages 12 and up.
The shows are somewhat different for each group, with different magic & delivery techniques that appeal to the sensibilities of children at the age level being entertained. A special family show is provided when the audience contains a wide range of ages.
Quality Programming and an Experienced Performer
Michael Baker has been a featured performer on children's television programs in both Peoria, Illinois and in Birmingham, Alabama. He works regularly for schools, libraries, and many other events where children are present. His magic is always a hit, because it is fresh, creative, and very in tune with what the children like.
(PS… You'll like it, too!)
---
Special Birthday Shows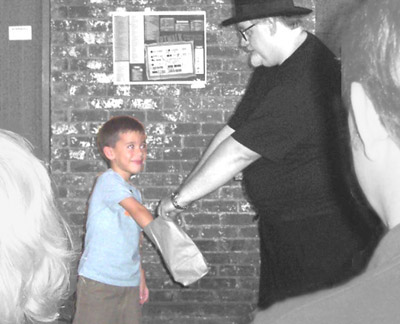 Michael Baker & The Magic Company will give you what you want!
Here is the simple truth...
Your kid gets bragging rights for having the coolest party in town, and you get peace of mind knowing you've hired the best children's entertainer available...
...all at an affordable price!
As with all Magic Company shows for children, you get a highly original, interactive show that is not only very funny, but incredibly amazing, as well! This is one magic show that the parents will want to see, too!
Your child becomes the STAR!!
Special attention is given to the birthday child, as they become part of the show, in a routine especially for them!
Can be worked indoors or out, this show is very much like the larger children's event show, only slightly scaled down to work with the average venue (usually the family home), and at a more affordable price!
Regular Birthday Party Show
Average running time - 30-35 min.
---
Try the Deluxe Show!!
All of the above, plus...
Longer Show! (average 45 minutes)
Bigger Tricks!
Special Magic Trick Gift for the Birthday Child!
---
...and the Super Deluxe!!!
Full one hour show!
Magic trick give-aways for all the children! (up to 10 children)
(Additional trick give-aways available)
---
Street Magic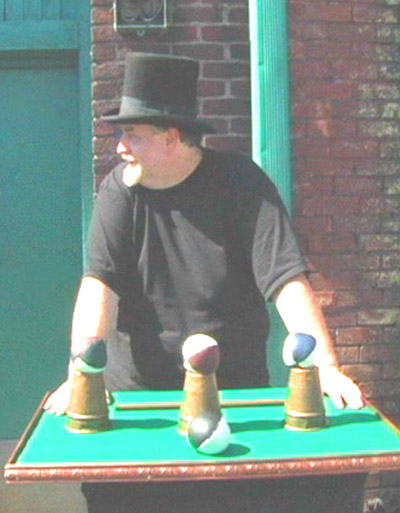 Magic... al fresco!
GET THAT FESTIVAL FLAVOR!
"Gather 'round and watch the most amazing sleight of hand and ledgerdemain to be seen here in many a day!"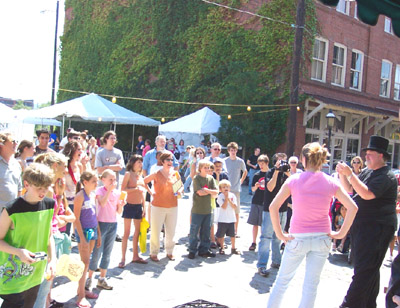 Street magic is all the rage. Why not spice up your festival or outdoor event with a performance perfectly geared toward this?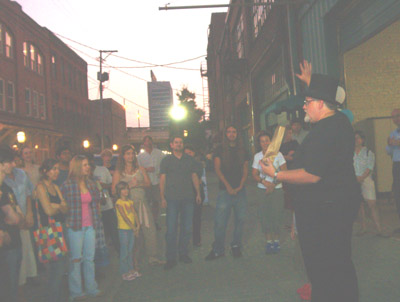 Michael Baker and The Magic Company can add that earthy flavor. You'll think you're standing in New Orleans' Jackson Square or soaking up the culture in some European plaza!
Half the fun is when the audience gets involved!
Perfect for your festival or event!