Dinner Theatre Stage Show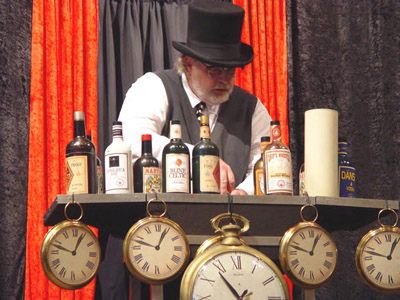 On With The Show!
The audience anticipates the magic...
You've wined & dined your guests... you've made your announcements... perhaps you've even given out an award or two. They are happy and relaxed. Now it's time to give them something they'll remember for a long, long time.
The house lights dim, the stage lights come up...
Michael Baker enters the stage, and immediately the magic begins! Watch as things appear from nowhere, disappear into nothingness, and change by a mere gesture from this magician... this incredible magician.
With several hundred people in the audience, you'd never think it possible, but one minute you could hear a pin drop in hushed anticipation... the next, the audience is about to bring down the roof with laughter and shouts of amazement! Michael Baker knows how to break down the wall that separates an audience from the show on stage. He makes each and every person in the audience feel as if he is performing just for them, as if they are standing right next to him, witnessing the magic at arm's length. Michael is a master at involving the audience, at drawing them in.
"I had no idea, magic could be so fun... and so funny!"
--- Anonymous guest after a Magic Company show
Give your guests a memory that will last long after the dinner is over. Give them a show by Michael Baker and The Magic Company!
Running time - approx. one hour
---
Close-up Theatre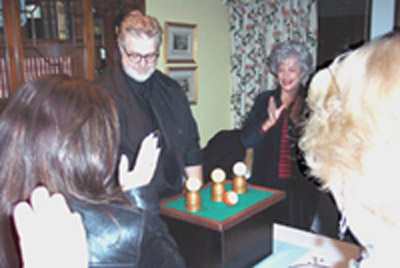 The ultimate in close-up sleight of hand!
"STEP INTO MY PARLOUR..."
Here is some of the best magic you will ever see!
Performed in the confines of a smaller, more intimate environment, the Close-Up Theatre show is very much like the drawing room soirees that were the pinnacle of high society entertainment more than a hundred years ago, and are just as fashionable today!
This is a one-performance show, featuring the greatest precision sleight of hand magic that Michael Baker has to offer... performed with an intelligent, albeit quirky, style.
The ideal setting for this type of show would be a smaller dinner party of less than 25-30 people. Running time: approximately 40 minutes.
---
Cocktail Party Magic
"COME A LITTLE CLOSER..."
You are at a cocktail party, when the magician begins to perform... Magic is done right under your nose, and frequently on the palm of your own hand. When this happens you'll have no other choice but to believe in magic!
Add an unusual surprise for your guests with a performance by Michael Baker, from The Magic Company.
Whether it's a reception prior to dinner, or a full evening of cocktails & mingling, Michael's legendary sleight of hand is a great way for your guests to break the ice, and will leave you hearing positive comments long after your party has ended.
Your guests will be all too happy with this unexpected treat, as Michael works his way through the crowd with subtle & elegant illusions performed in this most intimate of party environments.
OUR BEST FOR YOU!
Michael Baker performs the magic that has made his reputation, his most famous signature pieces... outstanding close-up sleight of hand, decided audience favorites, honed to perfection over the years. In a word... awesome!
You may schedule this by the hour, or by the event. Because we want to do our best to visit as many of your guests as possible, but never sell you more than what you need, we can offer suggestions as to the ideal duration, based upon the size and type of your event.
As with all shows from The Magic Company, the performances are clean and appropriate to the event. Our reputation, as well as yours, relies on it!