The Street Table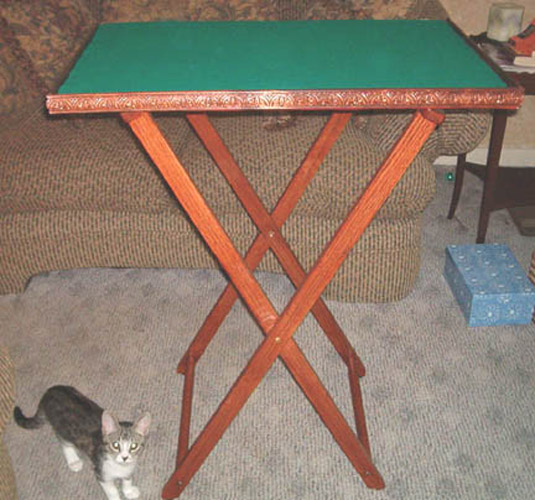 This beautiful table is ruggedly handcrafted from the finest materials. The base is made from solid red oak, beautifully stained and finished. Folds flat. Custom heights available. Table shown is 38" high, with a 20" x 30" top. The top has a firm, non-springy padding, covered with rich billiard table wool fabric. Perfect surface for card work, yet firm enough that objects sit securely without wobbling. The core of the top is made of layers of ply, cross-grain laminated to prevent warpage, common with single sheet cores.
The embossed trim is stained and finished to match the base. It forms a 3/8" lip to prevent objects rolling off the top. The tops can be made with trim on all four edges, or on only three, as shown here, leaving the back open. This can help facilitate certain moves, depending on your individual act.
The underside is covered with a mottled grain vinyl, and rests securely on the base without slippage. The lower photo shows the top upside down. This shows a top with trim on three sides and how the non-trim edge is finished. The wool fabric is rolled around the back edge to the underside. The vinyl lays over it, securing the raw fabric edge. It is all secured with small brass screws and finishing washers for a professional finish. The top, in this upside down position is ideal for dice stacking.
A very beautiful magic table, hand-made in the finest old-world tradition, by a master craftsman. Fully functional, yet wonderful enough for your magic collection.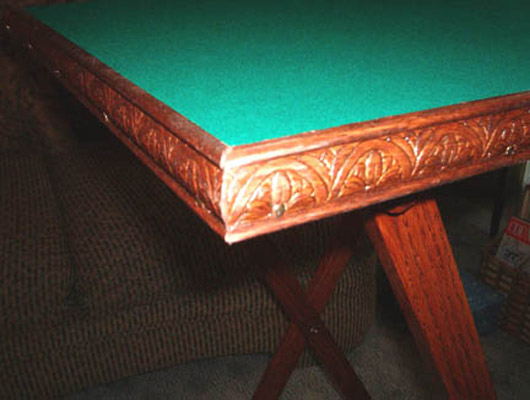 ---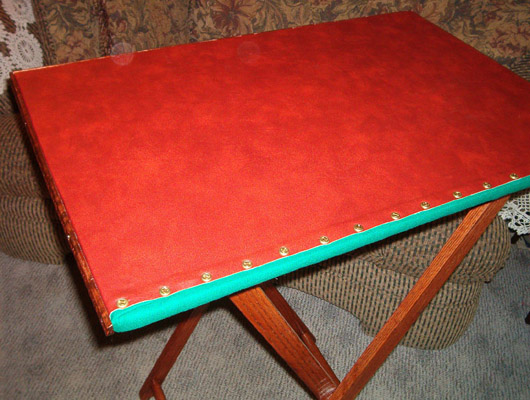 Please use your browser's back button to return.
---
Copyright © 2005 Michael Baker / The Magic Company. All rights reserved.