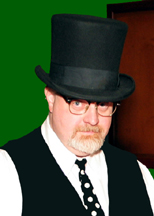 Credits? Here's a partial list...
Businesses & Corporations
Alabama Power, Nike Golf Tour, Merrill Lynch, Bell South, Alagasco, Southern Companies, NBC, Books-A-Million, Pemco Aeroplex, Camel, Group 3 Productions, Paine Webber, RJ Reynolds, American Honda, Motion Industries, SFX, Contemporary Marketing, US Steel, SMI Steel, Sloss Fright Furnace, Oak Mountain Amphitheater, Budweiser, The Comedy Club at the Stardome, Meadowcraft, Strong Automotive, Leo Ticheli Productions, Nissan, Summer Classics, Tutwiler Hotel, Electronic Data Systems, Jefferson County Library Cooperative, Willis-Caroon, Ameron Broadcasting, WZZK-FM, WDBB-17, Trinity Contractors, Ayres Agency, Gary Musick Productions, Magic Moments, Boy Scouts of America, Jacksonville Hospital, UAB, Woodmen of the World, Gadsden Cultural Arts Center, Gulf States Steel, Hanna Steel, Just For Feet, Encore Entertainment, Southern Research, Houghton Talent, Jim Burke Dodge, Champion Lincoln Mercury, Long-Lewis Hardware, Moore-Handley Hardware, F-A-G Bearings, IBM, Arby's Corporation, McMillan Associates, Yarbrough Festival Foods, Wynfrey Hotel, Caroon & Black, BE& K, Dynamite Magic & Balloons, MacLellan Integrated Services, Blue Cross Blue Shield, Tameron Honda, Lehigh Portland Cement, Lakeshore Hospital, Merck Pharmaceuticals, Ideal Furniture, Colonial Properties, Southtrust Bank, Southtrust Securities, Southtrust Mortgages, Connections, Associated Grocers, Roebuck Honda, Buckmasters, Long Lewis Ford, SCI, US ARMY, American Management Systems, Snickers Agency, Defense Research, Inc., Gresham, Smith & Partners, Xerox Connect, Shoney's Corporation, Anniston Museum of Natural History, Fun Source, Inc., Pro Promotions, Southeastern Attractions, Century Plaza, Quintard Mall, Western Hills Mall, Brookwood Village, Eastwood Mall
Restaurants, Bars, & Nightclubs
Outback Steakhouse, Jake's Grill, Wings, Justin's, Bennigan's, Gabriel's, Jitterbug's, LaDale's Hide-A-Way, Moneer's, New Orleans Cafe, Franco's, Baby Doe's, Celebrations, Spudd McKluskie's, Stagger Lee's, Ruby Tuesday, Trio's, Bell Bottoms, Zack's, Bernie's Grill, Cuco's, The Sidetrack, Alpine Bay, Ozzie's, Jake's Place at Rabbit Branch, The City Club, Cheers, Café DeVille, Rosser's Point, On The Border, Larry's Place, Guido's
Country Clubs
Riverchase Country Club, Country Club of Birmingham, Mountain Brook Club, Trussville Country Club, Inverness Country Club, Greystone Country Club, Hoover Country Club, Vestavia Country Club, Anniston Country Club, Talladega Country Club, Montgomery Country Club, Coosa Pines Golf Club, Altadena Country Club, The Club of Birmingham, Grayson Valley Country Club, Decatur Country Club, Capitol City Club, Gadsden Country Club, Heatherwood Country Club, Old Overton Club, Pine Tree Country Club, Terry Walker Country Club, Magnolia Grove of Mobile
Private Engagements, Festivals, Organizations, Associations, Schools, & Misc.
Too numerous to mention... and many more to come!
---