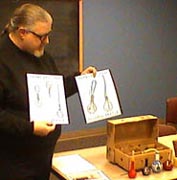 BIOGRAPHY - Michael Baker
FORMATIVE YEARS
Michael Baker was born February 22, 1956 in Galesburg, Illinois. At age seven, he received a magic set for Christmas. Having mastered these, and each one of those purchased from a nearby hobby shop, Michael was then given his first real push toward the big league. His uncle, Kurt Brokaw, a very accomplished magician from NYC, sent Michael a mail order catalog from a New York City magic shop, " The Magic Center".
Along with this was a set of wooden German-made multiplying billiard balls, the trick where balls magically appear between the magician's fingertips. Attached to the balls was a note that admonished Michael to practice every day and "force your fingers out". He must have listened, because he eventually learned to manipulate regulation-size 2 ¼" pool balls and has a true love for manipulation magic. One of his favorite magicians, Cardini, whose heyday stretched from the 1920's to the 1950's, was an expert in this form of the art.
Michael's family moved to Birmingham, Alabama when he was in high school and he was, for the first time, living in a city with a real magic shop, which eventually employed him. It was here that he learned how to build his own props.
A CAREER BEGINS... AND DEVELOPS
Having moved back to Illinois, Michael worked as a bartender; performing magic for those misguided enough to have seated themselves at the bar. One day, the off-premises owner made his annual trip from California to check up on his assets and saw the commotion. He grabbed the manager and demanded to know what that guy was doing behind the bar. Before the stammering manager could respond, the owner said, "He needs to be out on the floor, so everyone can see him." Michael has never gone back, and has been performing magic as a full-time career for about twenty years.
Michael moved back to Birmingham in 1986 and there set the standard for sleight of hand entertainment. For close-up magic, his skill and elegant, easy-going style of performing has been seen in many of the finer eateries and homes throughout the southeast, and especially in the Birmingham area. His stage show is filled with his funny, unique, original and amazing creations.
ACHIEVEMENTS & ENDEAVORS
Among many awards he has received, Michael took first place in close-up competition at the Atlanta Harvest of Magic in both 1997 & 1998. He lectures to magic groups, teaches magic in both classroom settings and on a mentorship basis. His original creations were the focus of two articles in the June 2002 & March 2003 issues of The Linking Ring, a decades old magic trade journal with a worldwide circulation. For these articles, Michael was awarded a highly coveted, best-of-year trophy.
Michael's knowledge of magic history, his understanding of the methods employed by conjurors, and his skill with building magical apparatus, has developed into a formidable sideline business. He currently produces some of the finest equipment available to magicians. Many of his items are unique, one-of-a-kind pieces that command the respect of many in his industry. His passion is the reproduction of magic apparatus from the Victorian Era, magic that has long been forgotten, and found described only in the rarest of magic books. Currently, Michael lives in Central Illinois.
---